ATV Wholesale Outlet is California's most trusted Veteran-owned, family-operated Powersports dealer, with over 15 years of experience.  We offer the West Coast's largest selection of affordable ATVs, with unbeatable prices on hundreds of all-terrain vehicles!
Come take a quick look at our huge selection of budget-friendly ATVs, from beginner-friendly kids ATVs, like our Sport 110, to high-performance, 4×4 units such as the CFORCE 1000 OVERLAND.
We stock units from all your favorite brands, including CFMOTO, Apollo, Coolster, Tao Motor, and YCF. We never cut corners and always put quality first- that's why every vehicle undergoes our signature 3-phase quality control inspection prior to sale. Our fully-stocked parts department and professional repair shop are always standing by to keep your ATV serviced and on the track. Visit us and see why we're California's leading supplier of quality, affordable ATVs for sale!
About Our ATV Dealership Selection
Veteran Owned and Family Operated, ATV Wholesale Outlet is California's largest and most trusted dealership of budget-friendly on and off-road vehicles! We carry a massive selection of California-approved green and red sticker vehicles and offer easy, in-house registration (DMV), helping you save time and frustration. We offer a wide variety of options and styles – sport and utility, adult & young riders – providing an impressive mix of fun and functionality. We pride ourselves on our versatile machines- built for all ages that vary based on engine sizes and capabilities, with brands such as CFMOTO, Apollo, Tao Motor, Pitster Pro, YCF, and Coolster.
All of our vehicles follow strict guidelines and are certified compliant with California Air Resources Board (CARP). Our vehicles are sold as either green or red sticker-approved ATVs, which allows you to enjoy California's vast selection of off-road parks, trails, mountains, and BLM off-road terrain!
For more information on our full collection of OHV green and red sticker ATVs in Sacramento California, or if you have questions or concerns about our products, contact our knowledgable staff today at (916) 922-3333!
How to Choose the Right Vehicle For Me
Purchasing an ATV is a big investment. Our units are highly durable and last many years, so it's important to search inventory and choose the right ATV for your needs right off the bat.
Whether you want an ATV for work or play, there are several factors in choosing a vehicle that you find comfortable and easy to ride, with enough power for your needs and all the features necessary to get work done. And, of course, it has to have that "thrill" factor.
Here are some considerations to think about when comparing your options.
The first thing to think about is what you plan on using your ATV for. Some people use ATVs for work; others for play.
We can broadly separate ATVs into two categories based on what they're most often used for:
Sport ATVs. These are performance-first machines built for fun. They typically have attributes geared towards performance, like better speed and acceleration, precise handling for both track and trail, lightweight designs, long-travel suspension, etc. If you're in the market for an ATV purely for the thrill and plan on using it to fly down the trails, pop wheelies, and slide around corners, then sport quads are the way to go.
Utility/Recreational ATVs. These are work-first machines that are designed to get stuff done. They're great for taking care of tasks like hauling, fetching, etc. If you're looking for a versatile vehicle for adventurous trail-riding, camping, hunting, or modding, Rec/Utility ATVs are the best choice.
We stock both types here at ATV Wholesale Outlet. For Sports models, check out the PENTORA 250, SPORTRAX 125, or SPORT 110. For recreational use, try the COMMANDER 200 or CFORCE 1000 OVERLAND.
Another key consideration is speed and power. Many ATVs for sale and four-wheelers come in a range of power options, with wildly different engine displacement, power outputs, and max speeds.
The right choice for you will depend on how you plan on using the unit, your level of experience, and how much you want to spend.
For example, youth ATVs like the SPORT 110 are suitable for the age and skill level of younger riders. It's powered by a 107cc, 4-stroke engine and can reach speeds of 25mph+. This should be more than sufficient for children but isn't suitable for experienced speed-junkies that crave performance.
On the other end of the spectrum, our CFORCE 1000 OVERLAND unit offers unparalleled performance. It's powered by a 79 horsepower 963cc V-twin engine that should be more than enough to satisfy your need for speed
If you plan on using your ATV to launch a boat or haul a trailer, you'll need to look at the towing capacity and hitch type to make sure it's suitable.
Most models come with a 2" hitch receiver, which is the industry standard and should match the one you already have on your truck.
Hauling capabilities vary depending on what model you choose, but if you plan on towing heavier loads, the CFORCE 600 is a great choice. It comes with a 2" welded receiver hitch, 1000 lb tow capacity, and 2500 lb winch.
In Northern California, it's also important to think about registration. If you plan on operating any motorized off-road vehicles, you need a Green or Red Sticker issued by the Department of Motor Vehicles.
Red Stickers are issued to ATV models that don't meet all of the required California Air Resources Board (CARB) emission standards. These are typically carbureted vehicles, which currently consists of most ATVs in California. If your ATV has a Red Sticker, some parks and trails may restrict riding to certain times of the year (always call and ask). There are still plenty of places to ride with a red sticker vehicle, so don't let this be the final determining factor!
If you want to operate your ATV year-round at any Off-Highway Vehicle (OHV) park or trail, look for a Green Sticker. These are issued to vehicles that meet the required emission standards of OHVs and allow you to operate with no restrictions on any designated public lands all year.
All our vehicles are sold as either Green or Red sticker approved, so they're all certified for use in off-road settings and meet the required emission standards for California.
Size is another important factor to consider. Youth ATVs are smaller, lightweight models with low seat heights that make it easy for small children to get on and off.
Two-ups (2UP) are another popular type of ATV, designed to comfortably accommodate two passengers. They typically cost a little more than single-rider ATVs but feature a longer wheelbase and added stability which can help when launching boats and traversing slopes.
Many people who don't plan on carrying a passenger still opt for two-ups for a more comfortable ride and larger carrying capacity.
The max loading weight or payload capacity isn't the same as the towing capacity. While the towing capacity tells you how much the ATV can tow behind it, the load weight tells you how much you can load onto the unit safely. This includes the driver's weight plus any cargo or passengers.
Obviously, if you plan on using your ATV to carry around heavy cargo, you'll need to look for a large load weight. The same goes if you're a big and tall rider. The COMMANDER 200 ATV has a maximum load weight of 330 lbs, which should be enough to carry heavier users as well as tow mild weight, whereas our CFORCE series from CFMOTO is designed to carry and tow much larger weight for more heavy-duty work.
Electronic Power Steering
Some of the higher-priced ATVs for sale come with electronic power steering (EPS). While not necessarily essential, this is a very useful feature that a lot of riders feel they can't do without. Once you've had it, it's hard to go back.
With EPS, your arms and shoulders have to do less work. It reduces the strain on your body that comes with steering over rough terrain and can help minimize aches and pains. It also means that it won't pull the handlebars out of your hands when you hit a tough stone.
We've looked at some of the most important features so far, but there are lots of other factors you might also want to consider, depending on your needs. This includes things like LED front lamps, handguards, skid plates, removable storage, winches, manual or automatic transmission, weather protection, etc.
Frequently Asked Questions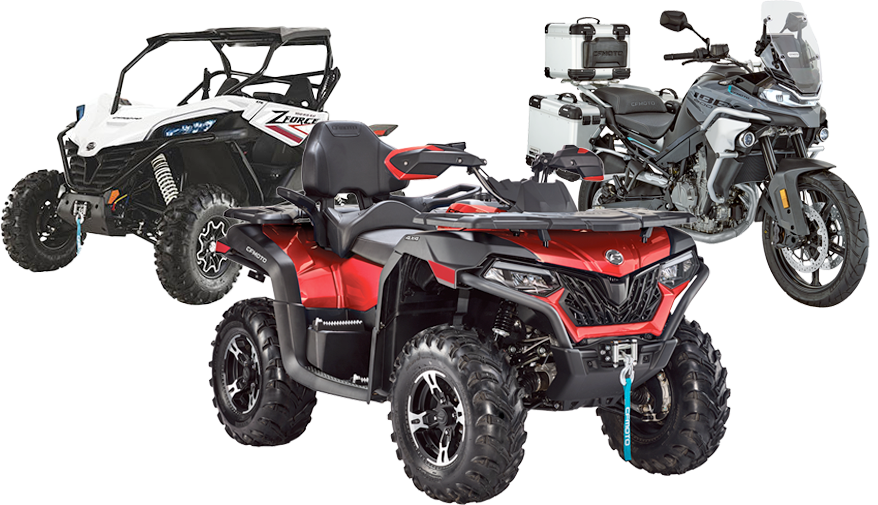 Japanese manufacturers like Honda and Yamaha have traditionally ruled the Powersports market, but recently, Chinese Powersports vehicles have begun to dominate sales in the US — and there's a reason for that.
Chinese ATVs are an incredible value for your hard-earned money.
And while many people mistakenly assume that all Chinese-made products are of poor quality, the reality is that when it comes to ATVs, this couldn't be further from the truth, as Chinese ATVs have been shown to last 10+ years with minimal but proper maintenance.
The catch? Always buy from a trusted, professional dealership that offers parts and service. This is the real reason Chinese ATVs like TaoTao, Apollo, and Coolster often have such mixed reviews.
Most complaints come from users who buy part-assembled products through online sellers. The problem with going down this route is that if you end up missing a component, it can be tough to find replacements — and shipping from China takes forever.
Plus, ATVs imported from China are also harder to get services in the US as it's tough to find mechanics that can repair these vehicles.
Customers who buy from a trusted retail dealership like ATV Wholesale Outlet, often have a much better experience. With us, you can rest easy knowing that your vehicle has been professionally assembled, tested, and certified 'safe to ride' by our in-house experts before you take it home.
On top of that, you'll also get a bumper-to-bumper warranty with each vehicle. And if you ever need replacement parts, service repairs, or maintenance, we can take care of it for you.
That's why we're the #1 trusted dealer in the Greater Sacramento and Northern California area. And if you don't want to take our word for it, just check out our reviews.
The right ATV for you will depend on what you're looking for, how you plan on using it, and your budget. If you're looking for a budget-friendly model for a young, first-time rider, you can't go wrong with the SPORT 110.
If you want something a little more powerful and suitable for adult users, the Commander 200 by Apollo is a great choice. It's a versatile machine that's as good for hitting the trails as it is for getting work done.
If you have a higher budget to work with, the CFORCE Series will certainly check every block. These machines offer premium performance and handling, with a one-year warranty, all for an affordable and competitive price! The CFORCE 1000 OVERLAND is the best of the best.
There are lots of great places to ride in the greater Sacramento region. Some of the most popular trails are Mammoth Bar OHV Area, Carnegie State Recreation Area, Stonyford OHV Area, and Clay Pit Off-Road Area. Check out this list of approved off-road parks and trails in California!
Northern California's Leading hub for Powersports and e-Bikes
We stock a massive selection of OEM parts for all our products!
Full-time, qualified technicians to keep your vehicle running!
Experience exceptional quality with unbeatable deals
RFN Electric Dirt Bike
$200 off
The Apollo RFN Ares is here! 74 Volt power and unbeatable range- Don't wait!
Limited Inventory- Call now!
YCF BLOW-OUT SALE!!!
$800 off
Get up to $800 off our best Dirt Bike's EVER! Very limited supplies- Call Today
YCF Represents the BEST OF THE BEST!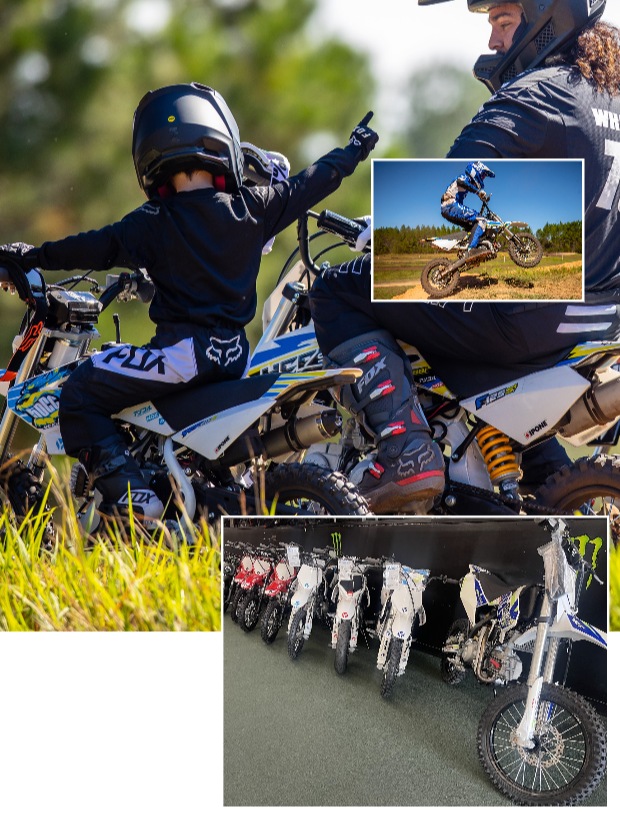 CFMOTO Motorcycles
$1,000 off
INSANE Summer Sale on ALL CFMOTO Motorcycles! Call while supplies last…
See America's best value Motorcycles today!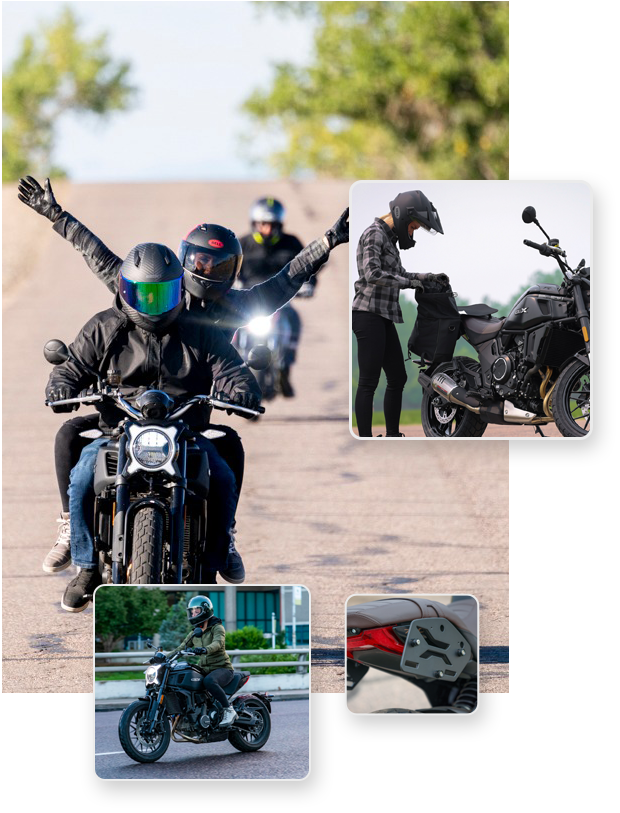 1
2
3
ATV WHOLESALE OUTLET
4551 Auburn Blvd, Sacramento CA 95841