Burromax TT350R
America's Best Value Mini Bike!

The Burromax TT350R is not your average electric dirt bike! Built to be better, the TT350R brings serious power and torque to a small dirt bike frame. With a seat height of only 19 inches, first time riders will get a real taste of off-road fun! It's premium Lithium Ion battery provides over 3 hours of battery life at speeds over 17 MPH. The TT350R offers 2 selectable speed modes for parental control. The TT350R features performance front and rear suspension, rear disk brake, faster charging, and plenty of upgrade options. Come see in person why Burromax is America's best value mini bike!
17 MPH
20+
Mile Range

24V 10Ah Battery
350W Motor

Speed Sensor Pedal Assist

Twist Throttle

Full-Automatic
12.5 x 2.75 Tires

50.7 Lbs w/ Battery
Digital Display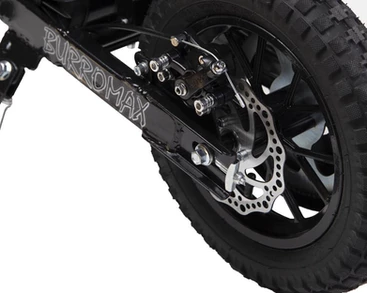 Bike Dimensions: 43.3″ 11 " x 24.8″
Weight Capacity: 250 Lbs
Weight w/ Battery: 50.7 Lb
Battery: 24V 10AH
Motor: 350W 24VDC High torque BDC Motor
Charging Time: 3-3.5 Hrs. or less/partial charging is OK
Display: Digital Readout (Volts/Battery Life)
2 Speed Selections: (Low Speed 8 Mph-High Speed 17 Mph)
Battery Life: 500 Charge Cycles
Rear Brake: Cable Disc Brake
Tires: 12″ × 2.75″ Fat Tires
Fenders: Included, Front And Rear
Jennifer McNash 04/17/2021
My kids go nuts on this bike! We've owned cheap razer bikes in the past but they're junk and the batteries don't last. I've had nothing but issues with the cheaper bikes. These burromax bikes are a tottaly different animal. these are built like real dirt bikes and you can tell the quality difference the first time you see one. Don't cheap out, get the good stuff. We love our 350 bike, our kids stay outside all day long on these bikes.
Clay Dunlop 03/28/2021
NOT your average electric bike These little bikes are NO JOKE. We had to set the power setting down because our kids are new riders and boy do these little burrowmax bikes pull hard! the frames are very sturdy, and the battery goes for hours. I really can't complain. If you have kids who are ready to start riding, this is the perfect bike to get them started.
Calvin Studer 05/09/2021
Great little bike My daughter really wanted one so we got it for her birthday. I can't get her off her burromax bike, she's hooked! I was thinking about getting a razer bike, but i didnt want to get her a 'toy' thats going to fall apart after a few months. These burromax bikes are very very well built. lots of power and all day battery life. Thanks!!
George Mueller 05/05/2021
Lots of power I'm 215 pounds and this bike has no problem with me on it. My son rides around our 9 acre property, we have lots of hills and I even made him a small track. This bike rips around no problem. Just keep it charged and the bike just keeps on going.
Nick C. 03/14/2021
My friend Jarrod bought his over a year ago. My daughter was riding it and I asked Jarrod if he was satisfied with the bike. He said he couldn't be happier with it. I bought one for Emma's birthday present and I feel the exact same way about as Jarrod, I couldn't be happier. My daughter loves it and it holds up to endless hours of riding fun.