sacramento electric dirt bikes
We all know that the best adventures happen off-road. But if you want to enjoy trail adventuring and the incredible experience of racing across dirt paths, you're going to need a bike that's just the right size, tough enough to handle rough terrain and power through the mud!
ATV Wholesale Outlet is the leading supplier of dirt bikes in Sacramento, California. Our veteran-owned, family-operated Powersports dealership is very based on your one-stop-shop for affordable off-road bikes.
We offer unbeatable prices and better deals than our competitors, and stock a  wide range of units, from beginner-friendly kid's 70cc dirt bikes to elite-level 250cc motorcycles that are built for racing. And because we put quality first, every unit we sell undergoes our signature 3-phase quality control inspection before you take it home.
Visit us today to find out why we're California's favorite supplier of high-quality dirt bikes!
About Our Dirt Bike Dealership Selection
Veteran Owned and Family Operated, ATV Wholesale Outlet is California's largest and most trusted dealership of budget-friendly on and off-road vehicles! We carry a massive selection of California-approved green and red sticker vehicles and offer easy, in-house registration (DMV), helping you save time and frustration. We offer a wide variety of options and styles – sport and utility, adult & younger riders – providing an impressive mix of fun and functionality. We pride ourselves on our versatile machines- built for all ages with varying engine sizes and capabilities, with brands such as CFMOTO, Apollo, Tao Motor, Pitster Pro, YCF, and Coolster.
All of our vehicles follow guidelines and are certified compliant with California Air Resources Board (CARP). Our vehicles are sold as either green or red sticker-approved ATVs which allows you to enjoy California's vast selection of off-road parks, trails, mountains, and BLM off-road terrain!
For more information on our full lineup of OHV green and red sticker ATVs in Sacramento, or if you have questions or concerns about our products, contact us today at 916-922-3333!
How To Choose The Right Dirt Bike
There are a lot of factors to consider when choosing dirt bikes, including your size (height and weight), experience level, and intended use.
Most units come with lightweight frames for easy handling and speed. And of course, all dirt bikes are built to handle whatever terrain you're faced with! However, certain features and differences in performance make some models better for competitive racing, whereas others will be best for recreational use.
Naturally, you'll want to look at the motor and speed limit. If you're a serious racer that likes the thrill of competition, a unit like the YCF BIGY 190MX ZE may be the best choice. It boasts a 190cc motor and can reach speeds of 65mph+, with advanced braking power and reliable electric starting.
If you're looking for something suitable for a first-time rider, you'd be better off with a mini bike like the Burromax TT350R. It still pulls hard but it's limited to a more modest 17mph so that your kids can ease into it. It's also very affordable and features a smaller frame, with a 19-inch seat height that makes it more accessible for young users.
Aside from that, you'll also want to think about terrain. Most off-road bikes can handle pretty much any terrain but are best suited to compact dirt and harder paths. If you plan on mainly using the bike on looser terrain like mud or sand, you may need special tires and other features.
And of course, you need to choose a bike that fits your frame. The last thing you want is to buy a bike that you can't pick up after you've dropped it because it's physically too large for you. A good rule of thumb is that you should at least be able to get the toes of both feet planted firmly on the ground.
Whatever your needs are, ATV Wholesale Outlet can help you to find your perfect bike. You can chat to our sales agent any time and we'll help you search for something suitable.
Frequently Asked Questions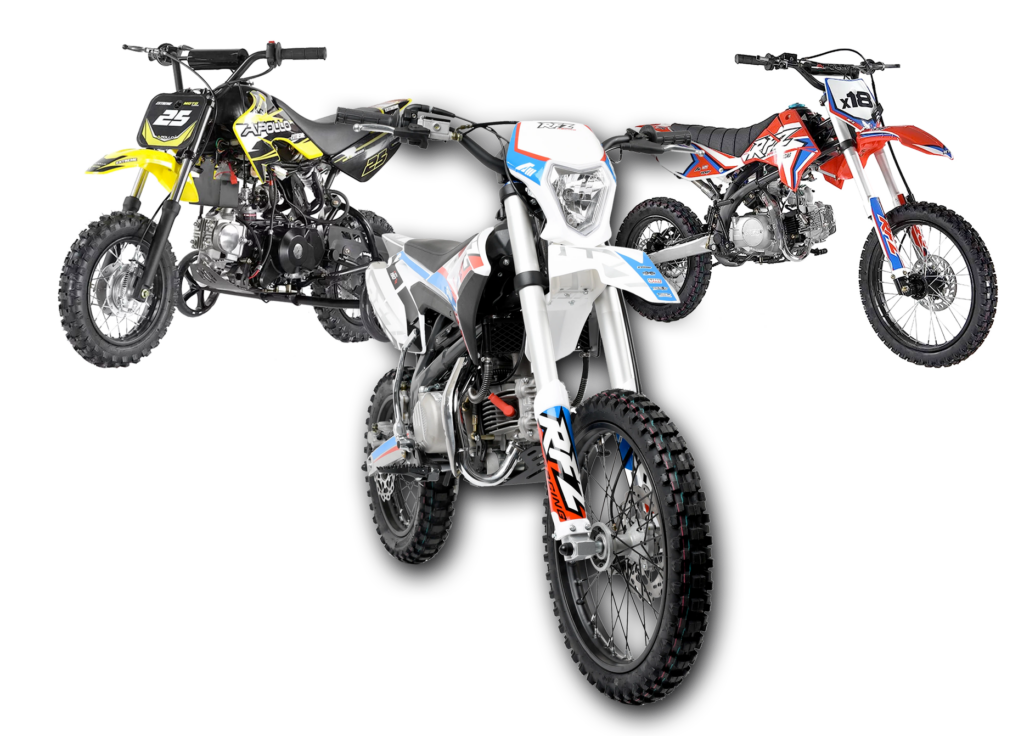 Chinese dirt bikes have become very popular in recent years. They're inexpensive and offer superior value for money compared to Japanese manufacturers like Kawasaki, Yamaha, and Suzuki, which is why they've started to dominate sales in the US.
But despite the low price, Chinese dirt bikes aren't necessarily low quality. On the contrary, these bikes can last 10+ years with proper maintenance.
The only major downside is that it can be tough to find parts for Chinese dirt bikes. When something breaks and you can't fix it, it can be very frustrating. If you look at online reviews, you'll see this complaint come up time and time again.
Fortunately, this isn't a problem when you buy from a responsible dealer like ATV Wholesale Outlet. We offer a bumper-to-bumper warranty with each vehicle we sell, and our repair shop is always fully stocked with OEM replacement parts for all of our vehicles.
As a full support dealer, when you buy from us, you can have peace of mind knowing that if you ever need service repairs or replacement parts, we can take care of it for you.
Our team of on-site experts also professionally assemble, test, and certify every dirt bike we sell to make sure it's safe to ride before you take it home, so you don't have to worry about any nasty surprises or missing parts (a common problem when you buy online).
That's why we have such great reviews and why we're the most trusted dealer in the Greater Sacramento and Northern California area.
To use dirt bikes off-road in California, you need a Green Sticker or Red Sticker issued by the DMV.
The Green Sticker is issued to motorcycles and other off-road vehicles that meet the California Air Resource Board emission standards and allows you to operate the vehicle on public land all year round.
The Red Sticker is issued to vehicles that don't quite meet all of these standards. If your dirt bike is Red Sticker approved, certain parks and trails might restrict access to certain times of the year, so it's always worth calling ahead to check first.
That said, there are still lots of places you can ride dirt bikes with a Red Sticker, so this shouldn't be the determining factor when choosing dirt bike motorcycles.
There are lots of great places to ride dirt bikes in the Greater Sacramento area, including near El Dorado Hills and Citrus Heights. Popular trails include Mammoth Bar, Prairie City SVRA, Argyll Motocross Park, and Carnegie State Recreation Area. Visit
this link
for a list of approved off-road trails in California for more location ideas!
Northern California's Leading hub for Powersports and e-Bikes
We stock a massive selection of OEM parts for all our products!
Full-time, qualified technicians to keep your vehicle running!
Experience exceptional quality with unbeatable deals
RFN Electric Dirt Bike
$200 off
The Apollo RFN Ares is here! 74 Volt power and unbeatable range- Don't wait!
Limited Inventory- Call now!
YCF BLOW-OUT SALE!!!
$800 off
Get up to $800 off our best Dirt Bike's EVER! Very limited supplies- Call Today
YCF Represents the BEST OF THE BEST!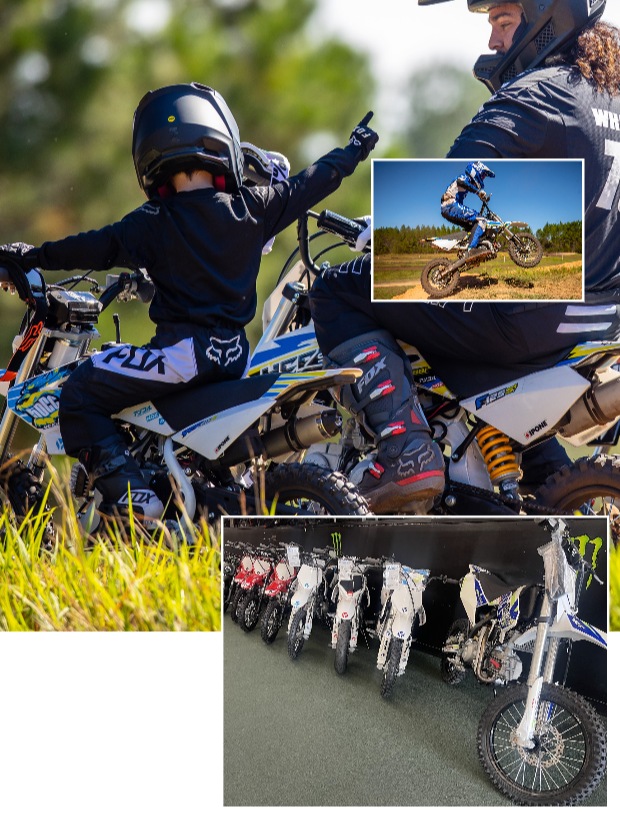 CFMOTO Motorcycles
$1,000 off
INSANE Summer Sale on ALL CFMOTO Motorcycles! Call while supplies last…
See America's best value Motorcycles today!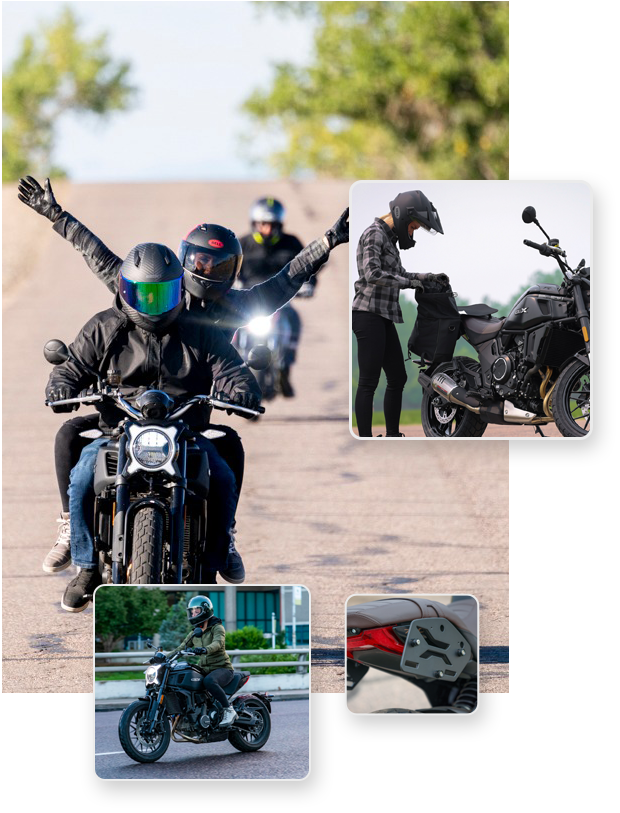 1
2
3
ATV WHOLESALE OUTLET
4551 Auburn Blvd, Sacramento CA 95841