Wondering what type of dirt bike to choose: gas or electric? You're in the right place.
In this post, we'll be comparing electric dirt bikes vs gas dirt bikes in detail to help you figure out which one is the best fit for your needs. We'll be examining their strengths and weaknesses, highlighting the better performance between them, and revealing which type of users each is best for.
Ready? Let's get started!
Electric Dirt Bikes vs Gas: A Brief Overview
The main difference between gas and electric dirt bikes, is, of course, their power source. Electric dirt bikes are battery-powered (usually by lithium-ion batteries) whereas gas dirt bikes are gas-powered (by a two stroke engine or a four stroke engine).
The power source affects ride quality and performance in a number of ways. We'll explore the differences in detail next, but in case you're short on time, here's a TLDR version:
Gas bikes are faster, noisier, heavier, less efficient, cheaper to purchase, more expensive to maintain, and have a longer range.
An Electric bike is slower, lighter, quieter, more efficient, more expensive to purchase, cheaper to maintain, and has a shorter range.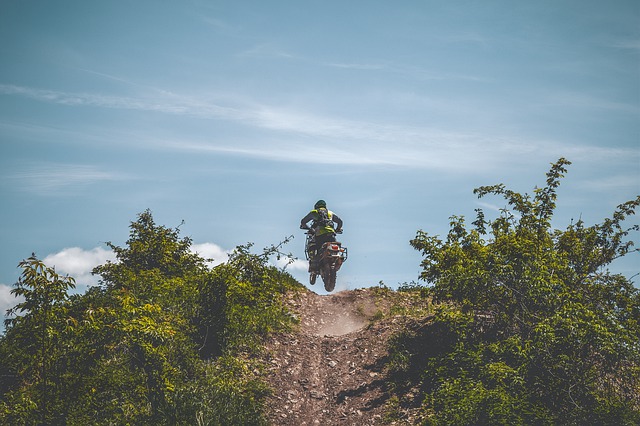 Electric vs Gas Dirt Bikes: Key Differences
Next, let's take a closer look at how they compare in different areas. Here's an overview of all the most important differences between electric bikes and gas powered bikes.
Speed
Dirt bikes that run on gas are capable of reaching much higher speeds than their electric counterparts on account of they have more power.
With most gas dirt bikes, it's possible to reach speeds of 60mph+. On the other hand, electric dirt bikes rarely have a max speed of over 20 mph. But of course, it depends on the model of the bike. The most powerful electric dirt bikes can get to significantly faster speeds.
However, it's also worth noting that while most electric dirt bikes may not be able to reach the speeds of equivalently-priced gas dirt bikes, they are much more energy-efficient.
The upshot: If you're a speed junkie who plans on using your dirt bike for racing, a gas dirt bike may be the best choice. However, for beginners and children who don't plan on flying across the tracks at over 20mph, an electric dirt bike may be more appropriate.
Noise
Gas dirt bikes generate a lot more noise than electric dirt bikes thanks to the deep rumble of the internal combustion engine.
This might not seem like a big issue, but if you plan on riding your dirt bike across nature trails that you share with hikers and animals, it can cause a lot of problems. Plus, you also have to think about local noise ordinances and possible disgruntled neighbors.
Compared to gas dirt bikes, electric dirt bikes have fewer moving components are run a lot quieter. They're not completely silent, but they're not obnoxiously loud like gas dirt bikes.
The upshot: If you want a dirt bike that runs quiet, go electric. That said, some riders like the roar of the combustion that comes with gas-powered dirt bikes.
Environmental Impact
Electric dirt bikes don't have any emissions like gas dirt bikes do. This means they won't release any exhaust gases into the environment and makes them a much more eco-friendly option.
Travel Range
Electric dirt bikes typically have a smaller max travel range compared to dirt bikes. Depending on the model of the bike you're using and the size of its battery, you should expect to be able to travel 50-80 miles on a single charge.
You'll often be able to travel further than this with a full tank of gas on a gas-powered dirt bike. But again, it depends on the model of the dirt bike and the size of its tank.
The other thing to think about here is charging time. Every time you run the battery down on your ebike, you'll have to charge the battery again, which can take 7+ hours for just an hour or so of use. With gas dirt bikes, you can fill up the tank in minutes and get straight back on the road—it's a lot more convenient.
Ease of Use
Gas dirt bikes have a steeper learning curve than electric dirt bikes. Electric bikes are beginner-friendly and easy to operate, which makes them a better choice for new riders and children.
Weight
Because electric dirt bikes have fewer components than gas dirt bikes, they're typically lighter, which makes them easier to move around and control. This is another reason why electric dirt bikes are the best choice for beginner kids.
Price
Electric dirt bikes are typically more expensive than gas dirt bikes. Depending on the model you choose, you could end up paying twice as much for an electric dirt bike vs gas.
However, after the initial purchase cost, electric dirt bikes are cheaper to maintain. With gas dirt bikes, you have to service the engine regularly. Because electric dirt bikes lack components like oil tanks and carburetors, there are fewer maintenance requirements.
Final Verdict: Which Type Of Dirt Bike is Best?
That concludes our in-depth comparison of electric bikes and dirt bikes. As you can see, each type of dirt bike has its own strengths and weaknesses.
The right choice for you will depend on what your priorities are and how you plan on using your dirt bike. With that said, here's when we think it makes sense to choose electric dirt bikes and gas dirt bikes.
Gas dirt bikes are best for:
Racers who plan to compete at motocross events
Riding in rural settings where noise is less of a concern.
Anyone on a tight budget who can't afford the upfront costs of an electric dirt bike
Electric dirt bikes are best for:
Adults who plan to ride in the city and don't need to exceed speeds of 20 mph
Children and new riders who want something easier to use and maintain
Hobbyists who want something that runs quietly, efficiently, and with lower environmental impact.
Are you looking for the best Dirt Bike selections? At ATV Wholesale Outlet in Sacramento CA, we have a wide selection of vehicles where we can help find the right motor vehicle for you!
Thanks for reading!
Related: Are Chinese Dirt Bikes Any Good?